The 2021 Subaru Love Promise Community Commitment Award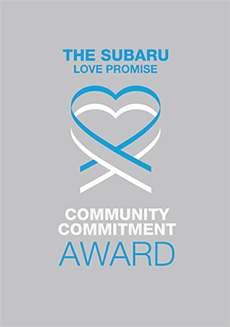 We've been nationally recognized for our dedication to our community and the Subaru Love Promise.
We're honored to receive the 2021 Subaru Love Promise Community Commitment Award. This award nationally recognizes Subaru retailers who are making the world a better place while demonstrating an outstanding commitment to supporting passions and causes in local communities. These efforts are focused in important areas such as the environment, community, health, education, and pets.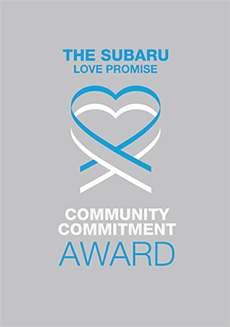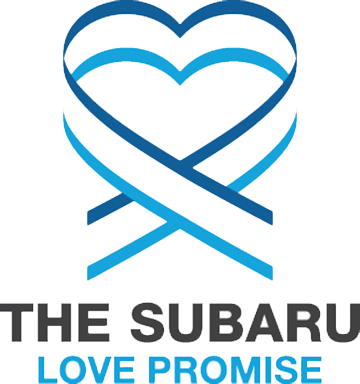 What is the Subaru Love Promise?
Subaru and our retailers believe in making the world a better place and the Subaru Love Promise is our vision of respecting all people. This is our commitment to show love and respect to our customers and to work to make a positive impact in the world.
How is Mastria Subaru dedicated locally to the Love Promise?
Mastria Subaru's Love Promise can be seen in various partnerships with local charities and non-profits. We're grateful for the opportunity, not only to be a part of our community, but to serve it as well.
Brockton Blue Dog Shelter
Coyle Cassidy High School, Bristol Plymouth Regional Technical School , Taunton Youth Soccer League , Taunton High School Tigers Basketball
Have A Sammi Kind of Day, Raynham Police Drug Awareness Program , Diamond Club Taunton High Baseball, Raynham Youth Football, Raynham Youth Soccer
Love Promise Stories from Mastria Subaru
Subaru and Mastria Subaru believe in making a positive impact on the communities in which we live and work. We uphold that belief through our Love Promise Community Commitment. Every month, we select inspiring stories from customers and partners from around our area who strive to support our collective commitment and feature them here
Mastria Subaru - Schiavo Art works ® & Blue Cat © - Richard S
I am painter and entrepreneur Richard Schiavo. I have painted many subjects, but none so passionately as animals, You will see that my artistic interest in subjects is far ranging and diverse, but the most important goal of my art is to energize the advocacy of the many people who share its message, which is "life is very vivid to all animals" I learned about the Subaru Love Promise during one of my visits to Mastria Subaru, I was instantly drawn to the message that Subaru is trying to deliver and I felt that it aligns perfectly with my passion and love for animals; so we decided to partner together by offering a Schiavo Artwork 2021(2022 to follow) Stop Animal Cruelty Purrposeful planner© to spread awareness. Any help in spreading our message is greatly appreciated. Schiavo Artworks would like to thank the Subaru organization for their heartfelt support for the animal welfare, and Looking forward to more collaboration with Mastria Subaru and their amazing team! www.schiavoartworks.com
---
Mastria Subaru Shares the Love - Anne G
For the 5th consecutive year Mastria Subaru has partnered with our organization for the Share the Love Promotion. Subaru in combination with Mastria Subaru donate $300 per vehicle sold for 6 weeks in November and December. We use these donations throughout the year with a focus on putting smiles on children's faces. We want to thank both Mastria Subaru and Subaru of America for their continued support.
---
Mastria Subaru - Great Partner - Nancy M
Mastria Subaru has chosen the Have A Sammi Kinda Day fund as their local charity again this year. Their support allows us to help so many children all year long. At this time of the year so many families need help for their Christmas celebrations. We have been able to provide Christmas for 84 children as well, holiday meals for many families. During the year, we have provided the means for children across our communities to attend camps, sporting lessons and for some, back to school clothes shopping. HASKD is grateful for the partnership with Subaru and the Mastria Family continues to impress us with their commitment to help raise money for local charities such as the HASKD fun. Seeing the Mastria Subaru team, support our charity, watching them educate their customer's on what the Have A Sammi Kinda Day fund is and why they should choose us as their charity of choice is incredible. Their interest when we talk about the children we are helping, the things we are doing, is heart warming. Subaru's Share the Love Program is a special program, showing Subaru's, and their employees, commitment and dedication to helping others. I know without the financial support Subaru provides us, we would not be able to help as many children as we do. Their commitment is energizing to the members of our fund, sharing in the excitement for the children we are able to help. We are so fortunate to have such a great partner and be a part of such a great program. The Share the Love Program allows non-profits like ours to share the love all year long. Thank you Subaru and our Mastria Subaru partners.
---
Best dealership experience ever - Leah G
MASTRIA Subaru (Raynham Ma.) is by far the best dealership, the most honest, trustworthy people I have dealt with ever when buying a car. I have been through the ringer and back with other dealers this past yr, buying 2 lemons and having to fight to get them fixed and ultimately returned. When I walked into Mastria, it was like a breath of fresh (new car scent lol) air. The people at mastria go above and beyond what u would expect from a dealership. Bruce was my salesman and he was knowledgeable, polite and patient. This was the first time I had been treated w respect, and the salesman actually listened to what my needs were and didn't waste my time trying to upsell me something I couldn't afford. And he kept in contact w me over the first several wks after I bought it to be sure I loved it and had no questions or problems. Jake was exceptional as well, his knowledge of my vehicle was extensive and I have never had a dealership "introduce me" to my new car like he did . He knew EVERYTHING about it, and it is actually a service I was very grateful for, especially with all the tech in the cars these days. Keep up the GREAT work MASTRIA SUBARU, I will never shop anywhere else.
---
Subaru Loves Learning- Nancy K - Nancy K
Mastria Subaru selected Williams Intermediate School as the recipient of multiple boxes of books. Subaru and it's dealerships support education and have partnered with us for several years. The students really enjoy the books and we are thankful for their continued support.
---
Mastria Subaru Supports The Have A Sammi Kinda Day - Nancy M
Mastria Subaru selected the Have A Sammi Kinda Day fund as their local charity for the annual Subaru Share The Love program. This is the fourth year in a row Mastria has selected us, we love partnering with them and with their support we have been able to help bring a smile to over 2,000 children. We bring smiles in a variety of ways and do customize the support to meet the child's request, giving them the things they said will bring a smile to their face. And when I say a variety of ways, I mean a variety. From donating a swing set to a local park, toys for a local YMCA after school program, iPads for a children's ward in a local Boston Hospital, class field trips, individual trips for students to attend school sporting competitions and conferences, helping with back to school shopping, driving lessons, summer camp, baseball camp, dog sled racing outreach program, attending Prom and many other custom requests. And for the holidays, Halloween costumes, pajamas and books for children in foster care, adopting children at Christmas and doing the shopping from their Christmas list and donating gift cards to families so they can do their own Holiday shopping. All of the things we do, the many children we have been able to impact is a direct result of the phenomenal support Mastria Subaru provides us. Chris Dunn and his team at Mastria Subaru are fantastic and passionate about helping HASKD. On top of all that and the $250 being donated by Subara to a customer's charity of choice, Rick Mastria has pledged a $50 donation directly to the HASKD fund for every new Subaru leased or purchased at Mastria Subaru during the Share The Love Program. Thank You Mastria Subarua, you are a great organization and team.
---
Best Buddies Bike Ride Challenge 2018 - Lesa S
I wanted to let you know that the Best Buddies Bike Ride was amazing!! I rode the 100 miles from Dorchester to Craigsville Beach on June 2, 2018. I was able to meet so many people and help people with disabilities in a fun and exciting way. it was an experience I will never forget and will definitely do again. I just wanted to say thank you so much for your wonderful donation from Mastria Subaru in Raynham for my Best Buddies Bide ride. Thank you for all your support. Thank you, Lesa
---
Justy the kitten - Nemasket O
Thank you to the caring people at Mastria Subaru for helping this poor sick kitten. The kitten wandered into the parts department. he was kept safe until my animal control arrived. The kitten has gone to NOAH where he has had sub fluids anti booties and eye meds, He has also had a warm meal and is resting comfortably. Thank you again to Mastria Subaru for helping this kitten! Nemasket Orphaned Animal Haven
---
Subaru Loves Learning - Sam C
Education comes first. Which is why we support organizations dedicated to making learning accessible! We were proud to provide Williams Intermediate School with multiple boxes of books to promote this cause.
---
Spreading Warmth and Love to Cancer Patients - Amy H
On 6/6/2017, the team at Mastria Subaru delivered blankets and craft kits to Brigham and Women's Hospital as a part of the Subaru Love Promise initiative in partnership with the the Leukemia and Lymphoma Society. These items, along with cards of hope from Mastria Subaru clients really do help to spread warmth and love to cancer patients. Thank you Mastria Subaru for your generous donation!
---
Mastria Subaru & The Raynham Food Basket - Samantha M
Mastria Subaru is happy to donate every year to the Raynham Food Basket during the holiday season. Together with our customers and employees, we are happy to gather large amounts of food and personal items for the less fortunate members of our community. The mission of the Raynham Food Basket is to provide supplemental food assistance to Raynham residents in need. They pride ourselves on maintaining a comfortable, supportive, and friendly environment for all of their clients and Mastria Subaru is happy to help contribute to this mission. "Dear Chris & Co-Workers, On behalf of the Raynham Food Basket, I want to thank you for your kindness and generosity. It is through people like you that enable us to help the less fortunate - the elderly, families, and many more." - Rita, Raynham Food Basket
---
Mastria Subaru & The Leukemia and Lymphoma Society - Mastria Subaru M
Mastria Subaru has partnered with Brigham and Women's Hospital in conjunction with the Leukemia and Lymphoma society. We have donated a large number of blankets and children craft kits for patience with blood disease to help assist them with their fight against blood cancers. Here at Mastria Subaru, we thoroughly enjoying giving back to charities and enjoy it even more when we have an opportunity to partner with such a renowned hospital. Check out some pictures of the Mastria Subaru team at their hospital visit!
---
Mastria Subaru - Vietnam Veterans Of Massachusetts - Mastria S
We are proud of our veterans that have served our country and take full advantage when we receive donation letters from veteran organizations. Vietnam Veterans Of Massachusetts sent us a lovely letter and we responded with a donation! Donations go to those who are currently serving as well as veterans who have served our country well with pride and integrity. In addition, this organization works towards improving VA health care, opening outreach programs and offer assistance to Veterans who need disability assistance, housing, and education. Thank you to all who serve from Mastria Subaru!
---
Share The Love Promise - Have A Sammi Kind Of Day - Ray S
In December of 2016, Mastria Subaru proudly conducted a successful fundraiser for Have A Sammi Kinda Day as a part of the Subaru Share The Love Event. In just six weeks, Mastria raised $27,000. Events included Irish Step Dancers, Christmas Karaoke, fun games, activities and raffles. The money raised went to various uses such as Christmas presents for the less fortunate children in the area as well as money for school books to inbound college students, aiding in the payment of baseball camps and even helping those who could not afford to go to prom. Mastria could have chosen 1 of 4 larger, national organizations but wanted to help out the surrounding community by selecting a local charity. Nothing is better than helping out those in need that live in your own community!
---
Building links for Breastcancer.org - Samantha C
Every year in October, Mastria Subaru participates in Mastria's Drive for Breast Cancer benefiting Breastcancer.org. With every test drive taken, a dollar was donated towards the cause and employees and customers were encouraged to donate via a donation jar or through a special website that was setup. With each donation, a pink link was created and a long chain link began to grow. Last year, Mastria was able to donate over $2,300 to Breastcancer.org! Breastcancer.org is a nonprofit organization dedicated to providing the most reliable, complete, and up-to-date information about breast cancer. Their mission is to help women and their loved ones make sense of the complex medical and personal information about breast health and breast cancer, so they can make the best decisions for their lives.
---
Mastria Subaru's Operation Christmas - Samantha C
Mastria Subaru participated in an awesome Holiday gift donation event for Citizens for Citizens, Inc. called Operation Christmas in 2016. With the help of the employees and some incredible customers, the dealership was able to collect close to five large boxes of toys, pajamas, books, and more to give to children in need during the holiday season! Citizens for Citizens, Inc. touches many lives, in many different ways. CFC is dedicated to the concept of giving those living in poverty the tools and help they need to make permanent improvements in their economic conditions and become self-supporting. If you are interested in improving the lives of your neighbors and building a healthier local community, please consider a gift to Citizens for Citizens, Inc.
---
Sharing the Love with Blue Dog Shelter - Samantha C
Mastria Subaru partnered with the Brockton Blue Dog Shelter for three years for Subaru's Share the Love event. We were able to raise a total of more than $62,000 for this great organization. The shelter was at our location every Saturday during these event times over the years engaging with our customers and educating them on the shelter and what they do. Their whole team immensely contributed to the success of our events that led to the impressive donation total. Thanks to Mastria Subaru, a shelter once in the red, was in the green again after just the first year. The Brockton Blue Dog Shelter is an incredible organization and asset to our local community. With a mission of easing the suffering of dogs in need of refuge, the Blue Dog Shelter provides homeless and unwanted animals with a safe, clean environment where they can regain their health. Daily exercise, healthy diet and outstanding healthcare are all a part of Blue Dog Shelter's offerings, as is a reward-based training system to better prepare the dogs for adoption. Blue Dog Shelter uses donations like these to rehabilitate dogs, prepare and ultimately place them with a loving adopter in a forever-home.
---